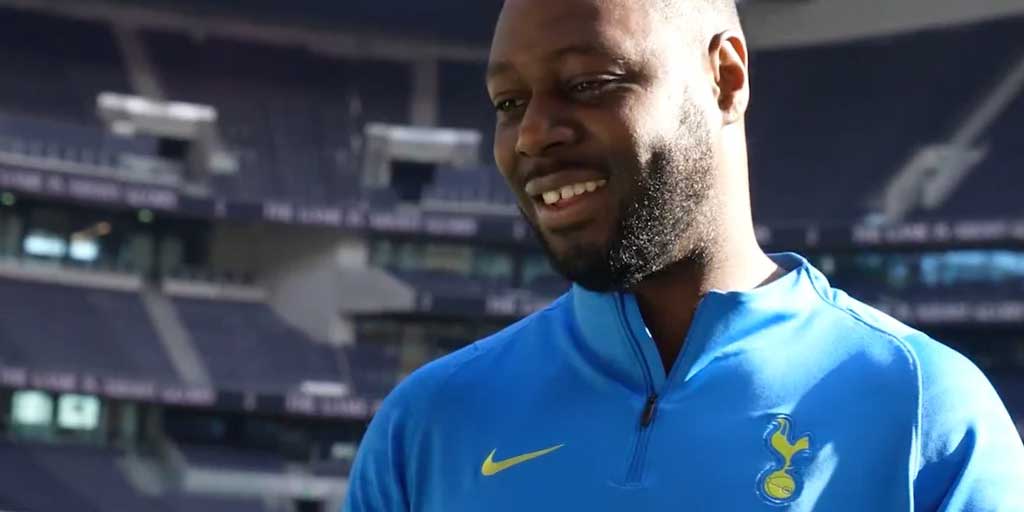 Hey Ledley, nice to see you!
Can you walk me through how you start your day right now that you are a Spurs Ambassador?
Oh, well, my day can be varied, I can be going to the stadium, working closely with the community. I could be at the training ground, working with partners. It's something I really look forward to doing.
Who was your football idol growing up?
My football idol would be Paolo Maldini, who was a top defender. One of my favourites, for sure.
What's the biggest challenge you have faced while you started out?
Probably the doubters, the people who said you're not going to make it.
You know it's going to be difficult,but just believing in yourself.
So, what advice would you give to young kids today who dream of becoming footballers ?
Work as hard as possible, and have the self-belief in yourself.
If you weren't  a football player, what would you have been?
Probably stayed in sports, boxer maybe. I like a bit of boxing.
When did your talent for football become clear?
I would probably say around secondary school, when I was about 11 years old.
You know as kids are older than you and you're better than them, that's when it stood out for me.
What do you do on your off days then?
Relax, relax, relax. I'm chill kind of guy so just family time.
Not too much, I don't have another sport that I play or anything like that.
So it's just very relaxed.
What's your favourite Netflix series right now, Ledley?
I've just finished watching Genius, which is a Kanye documentary,
that I found really interesting. He is a fascinating guy, I really enjoyed it.
What is something about you that people wouldn't know?
Wow, what wouldn't they know? That I once played for England
under 16, I was told maybe I should be a goalkeeper.
Wow! Did you ever try that?
No
What is it like being a Spurs Ambassador?
I love it! I've been involved in the Club since I was 14 years old.
So to still be here, connected with the fan base, you know, working with partnerships, working closely in the community is something that I love doing.
In all the stadiums you have played in the world, where is the craziest location?
Probably I have to say, playing in Turkey against Besiktas. The atmosphere in the game, in the stadium was unbelievable. It was a real experience for us playing in their stadium. The fans were electric. And the thing is that
they were actually quite hostile, but we managed to turn them around where they actually applauded us at the end of the game.
How has football changed since when you were playing?
A lot more emphasis on playing out from the back. I think all teams now want to start their attacks from their goalkeeper as something that is different to when I played where, you know, it's 50/50 in terms of the goalkeeper kicking out or playing out. So but now most teams are trying to play out from the back
What's the most memorable moment in your career?
The most memorable moment would have to be winning the Carling Cup for the Club, being captain, it's a dream come true, it's something that I wanted to do from you know, for a long time, and at a young age.
As I say, I was 14 when I joined the Club. That was a dream of mine to lift some silverware for the Club, so for sure it would be that.
What has been the biggest challenge as an athlete that you didn't anticipate when you first started?
One of the biggest things that people don't really think about is
having to deal with the adversity, because of injuries and things like that happen to players.
You know, there's a lot of ups and downs in the career and you know, having that ability to keep believing and keep fighting back is really important.
And you played against some great players,some great athletes,
Can you tell me the striker you feared the most and why?
I've never feared any strikers I always enjoyed the challenge
of playing against the best. For me, Henry was probably the best striker I have played against in the Premier League. But I loved the challenge. Never feared. They say what happens in the
changing room stays in the changing rooms.
Shall we have a look at them?
What was your best moment here?
Unfortunately for me, I didn't have the opportunity to play in this fantastic stadium. the old stadium. White Hart Lane, I have had some great memories:
beating Arsenal 5-1 in the Cup beating Chelsea 5-1 in the Cup once.
Do you have any pre-matches rituals or superstitions at all?
I did, yeah. I always put my left side on first, so my left boot, my left sock.
It would always go on before on my right. I don't know why I have done it. It's something that I always did. Funny enough it's something that I still continue to do.
So what kind of music would you probably be listening to before the match?
For me, normally, hip hop music.I know different players like different things. That's why you see players with headphones on, because they like to listen
to their their own style of music. For me, I liked hip-hop and normally, if anything was playing in the speakers
in the changing room, it would be hip-hop.
Did you ever get to control what music was being played?
You know, I had the option to control it but I preferred to let others have that pressure of controlling the music. We always had one guy that always had the latest music and he would put stuff on.
So what would you actually eat before the game?
Something very simple, chicken if it was an early kick-off, a 12.00pm kick-off
then maybe just some scrambled eggs on toast. Anything like that. So it could varies in terms of the time of the games.
What do you say to yourself before you walk into a stadium like this?
I know you said you didn't play here. But, what does it feel like?
It's electric. It really is.
You know, you can feel the atmosphere as players, as you kind of enter
the tunnel, you can feel the adrenaline and really you can't just wait
to get onto the pitch and feel that roar. That roar from the crowd is something
that you can't really explain.
And who does that make you feel ?
It just makes you ten feet tall, straight away and ready to go there and do battle and try to get the three points for the win.
Wow. This looks absolutely amazing. This is incredible.
Did you ever get scared to play in front of thousands of people?
I wouldn't say scared. Always had nerves.
From the first game to my last game. The nerves were there, but the nerves are
something that you have to deal with. You learn to deal with as a professional. I think it's important to have some kind of nerves.
It means that you really care.
So what's your favorite memory of playing in a stadium?
As I said before, I think winning the trophy for the Club is my favorite, favorite memory, you know, to be part of the history of the Club. You know, when I walk around the stadium and I see a picture of myself holding the cup with a Robbie Keane, you know, that's something that's really special to me. And that that was an amazing day.
Can you show me what makes a perfect tackle? Don't show it on me though!
Perfect tackle?
People would think that you have to go to ground to make a perfect tackle.
It doesn't have to be, you know,you can stand up and win a tackle.
You know, you could you could win a tackle just by anticipating of course, you would like to see the slide tackle as well.
I can't do that anymore, unfortunately.
Okay, Ledley. So, you are here. It's 3-2 against Arsenal. The referee is about to finish the game. What's the experience like?
You know, really you can feel it bubbling in the crowd. They are just waiting for the final whistle. As players, you're waiting for that whistle to go at the same time you are concentrating. The game is still going on, so you just can't wait for that moment for the whistle to blow and you can celebrate with your teammates.
What do you consider to be the best game that you have ever played?
Personally, I'm not sure. You know, I think the best games are always the ones that involve team performances for me and team wins. You know, as I said, beating Arsenal 5-1 in the semifinal was a massive game for us and one that I'll never, ever forget.
So who is the person you look out for in the crowd after a great match?
I think, naturally, you look for your teammates you know, they're the guys that you've put in the hard work with throughout the week and on the pitch.
So I think naturally you gravitate towards your teammates and then after that, it's maybe the manager, the staff. that also been putting in the work
through the hard week and then into the crowd you might look for your family members who are sitting in there.
So you know, it's great to share these moments with them.So played over 300 games for Spurs.
Who was the favorite player you actually played with?
Oh, that's a tough one. I've got so many great, great favorites here.
I loved Jermain Defoe, Robbie Keane, Michael Dawson, Aaron Lennon
We just had a great bunch of guys, Jermaine Jenas, A great bunch of guys that were, you know, going really well, done very well. So it's always difficult to pick one.
So, if you had to play a game again, which game would it be?
I'll probably pick a loss and turn it into a win.
So, I played in the Carling Cup final the year after we won it
and we played against Man United lost on penalties.
So it would be nice to change that one around and win that one.
Mental exhaustion or physical, what's harder to overcome?
I would probably say mental, probably more difficult. Physical, you know, is something that you used to dealing with from a very young age, work hard every day throughout the week, you know, for these moments,
I think that's something that you're a little bit more accustomed
to, a little bit used to something that you can push through a little bit easier.
So I'd say mental is more difficult.
So what did you do to hydrate when you were playing?
I would often come to the side and get some water or energy drink of some sort. And that was quite simple.
Did you ever take electrolytes like O.R.S Hydration Tablets?
There was some that some of the players did take Me, normally,
just an energy drink, energy drink or some water, especially with my knee problems, I didn't train too much.
So sometimes it was even sweet, just, you know, a few sweets just to kind of get the energy level up. It was important for me at times, sometimes 17 minutes, 18 minutes into the game, just to get a little energy boost.
We are almost at the end of our 36 questions Ledley, how do you think the beautiful game has evolved since you last stepped foot on the pitch?
I think that the game has improved to the better. The connection especially between the fans and the players especially with social media, these days,
something where the players really feel a connection, a close bond with the players. And in terms of the game on the pitch, it just got quicker.
It got more exciting. The players are even more technical than they ever were before.
So for me the game has improved, all the time, which is great to see.
Did you feel like you missed out that interaction with the fans so closely?
Not me, personally. I've been at the Club since I was 14, so,
you know, I've always been a local lad and I've always had that connection
as a homegrown player with the fans. And that's something I continue to do to this day. So for me, you know, I've always had this connection with the football club anytime.
Thank you for speaking to us today.
Is there anything you'd like to say to Spurs fans watching this?
Yeah, I'd just like to say thank you for being such loyal fans.
You know, in the last ten years or so, we've moved to this amazing stadium, amazing training ground, and we're working hard now to make sure
that we can get it right on the pitch. We have one of the best managers
out there. And, you know, we're going to continue to keep working hard, keep improving, and hopefully bring success soon.